Kang Quintus Causes Commotion In The Movie Industry When He Claims To Be "Opening Doors" With His Movie "The Fisherman's Diary".
Cameroonian film maker and actor Kang Quintus in an online post to celebrate the chain of successes recorded by his most recent project "The Fisherman's Diary" aroused controversial thoughts in fellow movie makers and a good number of entertainment followers when he wrote "…I Have Opened The Doors, Now Let's Get To Work & Do Great Films…"; a statement that seems to carry more weight than intended.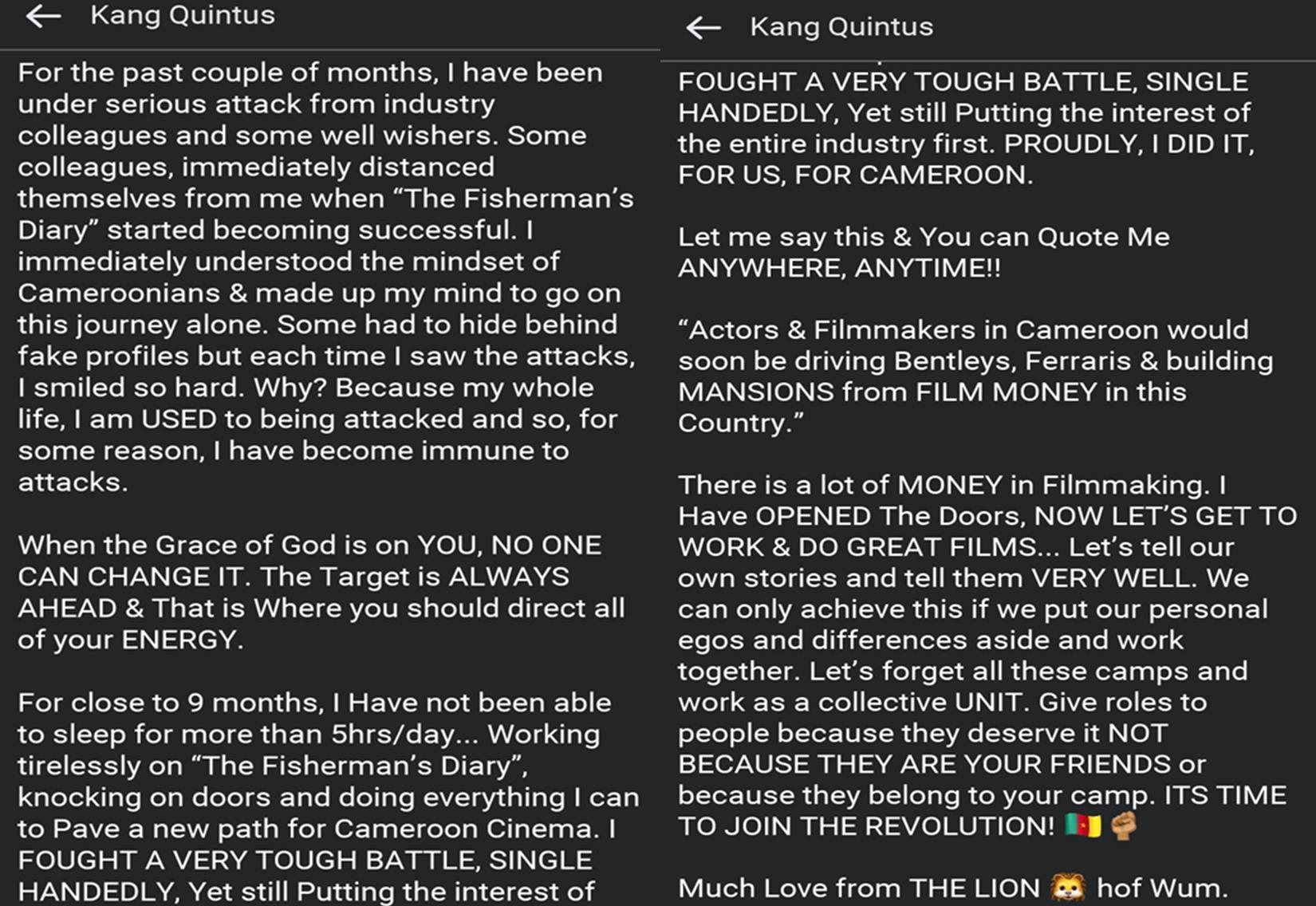 Note that "The Fisherman's Diary" has already registered the following wins around the world:
Best Film in India
Best Film in London
Best Film in New York
Best Actor – Kang Quintus in New York
Best Actor – Kang Quintus in Italy
Best Film in Italy
Best Actress – Faith Fidel in London
Best Film in Mexico
Best Film in Russia
Best Director –Enah Johnscott in Russia
Best Production, and Best Soundtrack – Ewube at the prestigious Paris Arts & Movie Awards, 2020 in Paris, FRANCE.
Best Actor – Kang Quintus in Hungary
Future Award – Faith Fidel in Hungary
Jury's Special Award – The Fisherman's Diary by Enah Johnscott in Hungary
Some felt hurt as this remark belittled efforts put in over the years by other movie industry stake-holders and among them was Itambi Delphine (Movie Producer and CEO at Itambi Studios) who applauded Kang Quintus' marketing strategy for his movie but went further to say "…the doors were opened a long time ago. Not even Jesus taking a movie now to stream will be 'opening doors' we know you have and will be penetrating some new platforms… don't talk about 'YOU' opening doors like we were all lost before now…".
Stephanie Tum(CEO and founder of Embi Productions, Embi Charity Foundation and Embi Glow Cosmetics) also aired her mind in a write-up which recounted a couple of failures plaguing the movie industry and their roots but she laid emphasis on the fact that "Making good movies is not our problem, having great talents is not our problem, the government is not really our problem. We got it all!!! OUR PROBLEM IS US!!!"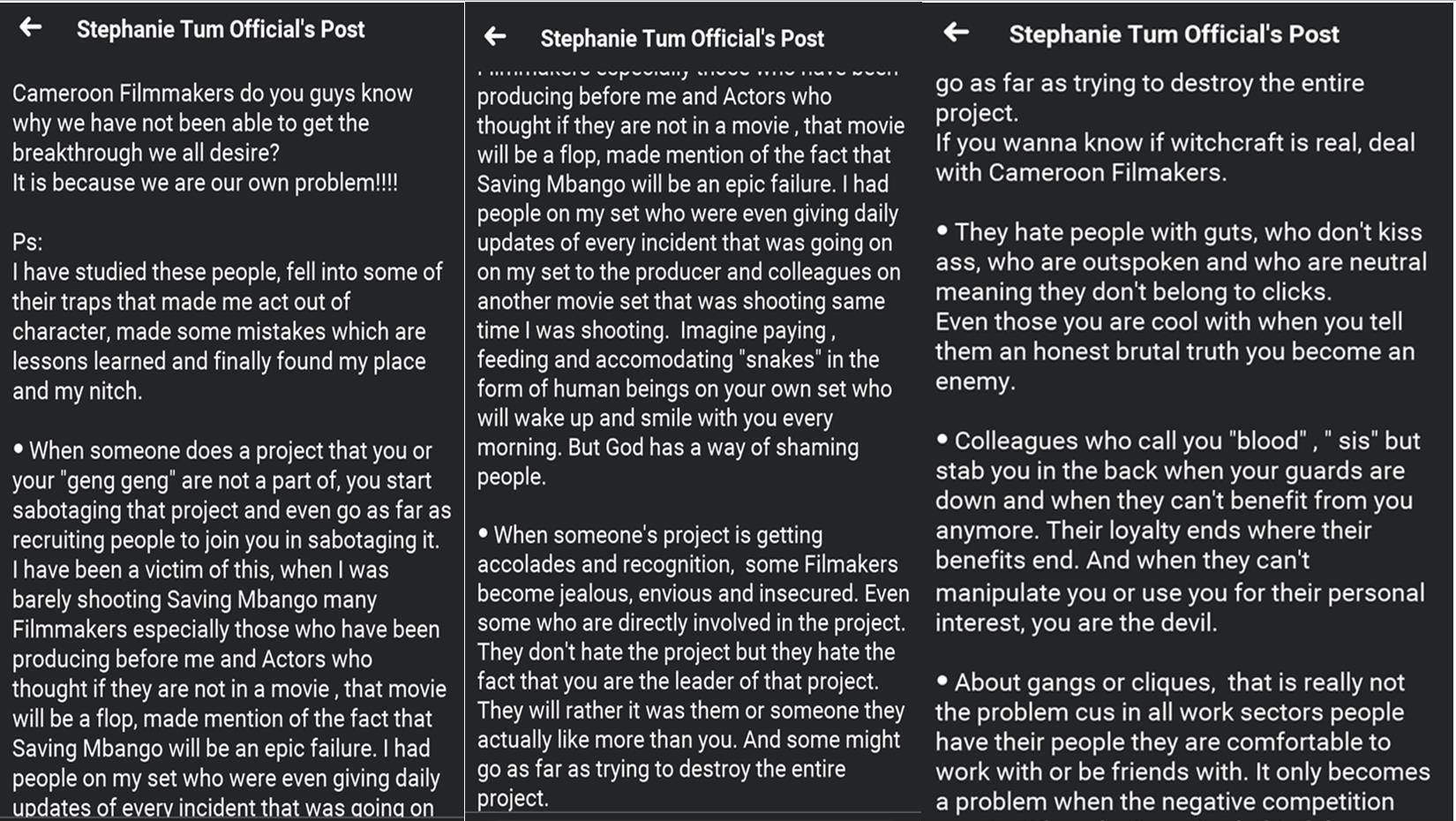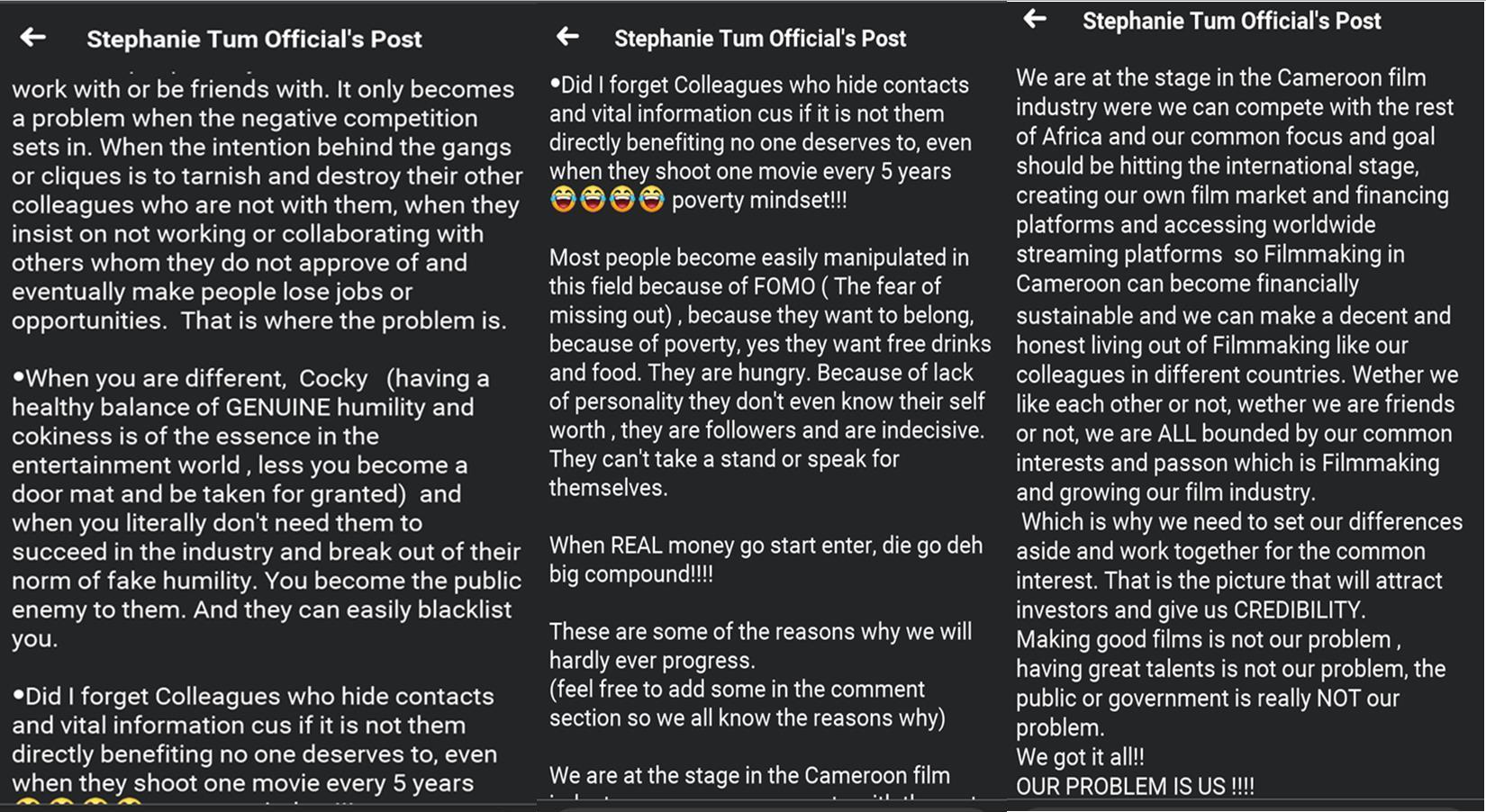 Entertainment analyst and critic Fabz Chi of Kesa Magazine reminded movie industry stake-holders of the stage and state of the industry and why nobody should proclaim himself as a "Door Opener" in his write-up which read:
"To the stakeholders in the movie industry, I have a little advise for you.
I don't know what you think, but we are less than 20% of progress to be an established movie industry.
At this upcoming stage, it will sound very disrespectful to jump up and proclaim yourself as a door opener when you have just added a single percent or even two to the general total, knowing that some other people took it to where it is, and some other people will have to take it from where you left off.
You all need to attest and agree that you are "Suffering" for other people to come and enjoy. You need to know that you are part of the foundation and so you cannot be the last stone that leads to the blocks or the roof and play pride when you are standing on other stones who have been there before you.
Whenever there seems to be some progress, pride comes in, jealousy comes in. It's almost as though you are in a competition of who gets there first. Nobody can do it on his/her own. We still have several problems in the industry. The success of one project can never be concluded as the success of the industry.
We've seen the awards, we've seen the foreign recognition etc, but we are still roaming around one position. Even getting a movie on Netflix will never mean that the Cameroon movie industry is on Netflix. There are some fundamental and foundation mistakes that we need to fix and one of them is that we should work as a team and get us up there.
It's all about sacrifice. Personal glory will make it look like you are minimizing other people's efforts. Personal glory will only bring out the bitterness of others, hate and jealousy.
I applaud y'all efforts, but there is still so much to be done.
Case Rested!
Fabz Chi"
Even with all the buzz caused by Kang Quintus' remarks, "The Fisherman's Diary" is receiving love from all around the country and the world at large; the movie streaming tour continues in other parts of the country:
Yaounde – November 21 at Canal Olympia
Mbouda – November 28th
Dschang – December 5th at Dschang University
Bamenda – December 12th at Bamenda Stadium.
Bongyu Abel for HOVAREIGNS Ent.