Traditionally, music artistes use their art to entertain and pass across messages but Cameroonian artiste Chidi White choses to use his art & merch not just for these two purposes; he uses his art for an even
greater impact.
Over the years, Chidi White has employed his art, his resources and his platform for community service, outreach and positive impact. He has so far created immeasurable impact through his humanitarian activities, cementing his name & reputation in the minds communities and state authorities. This article will let you in on some of his humanitarian works;
He actively joined the fight against COVID19 carrying out the following activities in the course;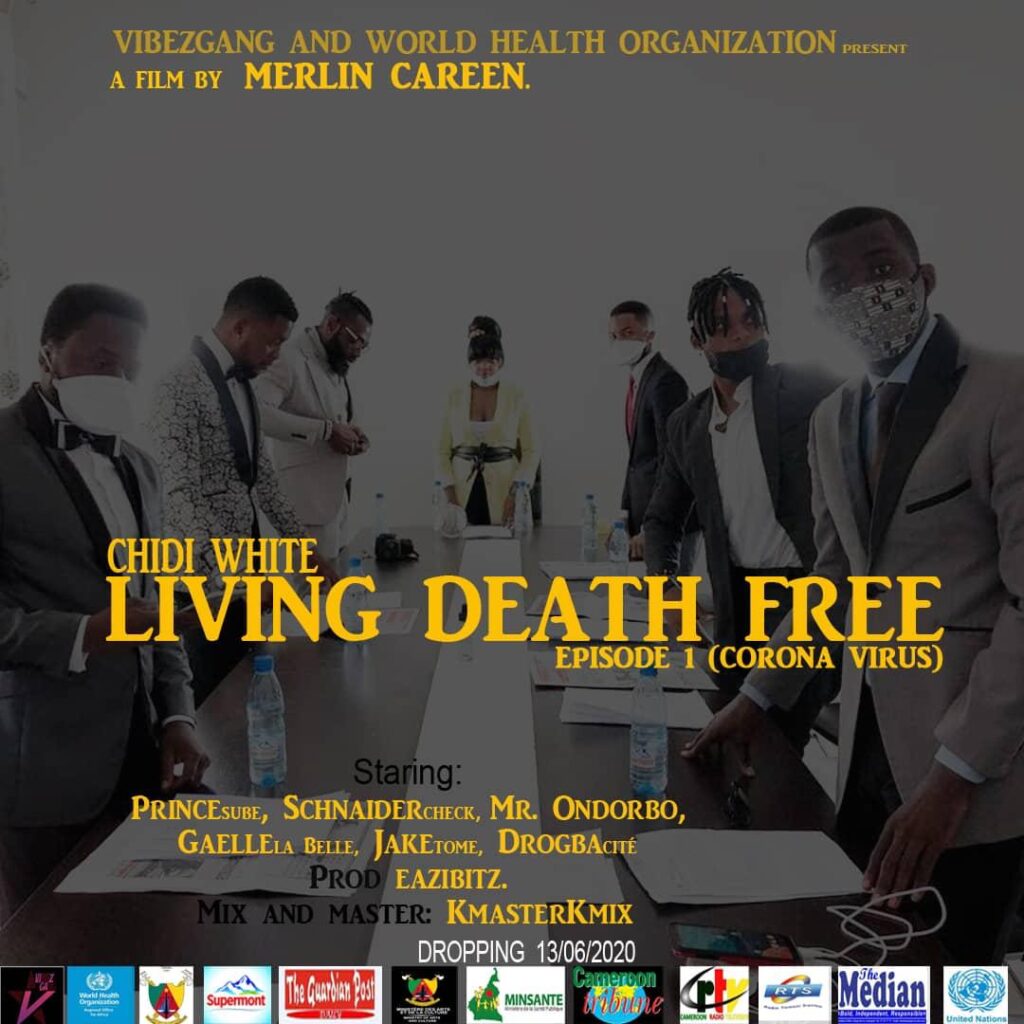 LIVING DEATH FREE FROM COVID19 is a MUSICAL SERIES that is set about to emphasize on the wages of sin which is DEATH and also spur freedom from the fear of DEATH. But the free gift of God is eternal life in Christ Jesus our Lord. THIS MUSICAL SERIES aims to wipe away every tear from our eyes, so death shall be no more, neither shall there be mourning, nor crying, nor pain anymore, for the former things have passed away. DO NOT PANIC! He will swallow up death forever.
THE EPISODE 1 of this musical series aims to be a critical component in helping the government in sensitizing and Building Awareness to fight the COVID-19 Pandemic by clinically addressing the Corona virus problem, raising awareness, carrying out advocacy, reducing panicking and improving the education-levels of communities.
A T-shirts conveying a message of awareness from the musical series "LIVING DEATH FREE FROM COVID19" and that of THE WORLD HEALTH ORGANIZATION has been distributed to some students and school administrates of SIANTOU UNIVERSITY for free due to reopening of school activities.
We also visited the orphanage with food stuffs and clinical tips in pictures, music clip and templates to teach the kids on responding responsibly to covid19.
Also a musical series carrying a fool package of entertainment embedded message calling out the youths TO RESPECT ALL GOVERNMENT SANITARY MEASURES TO STOP COVID19 has been distributed to some students and government officials for free.
 We carried out some sensitization campaign at the PRIME MINISTER'S OFFICE, MINISTRY OF ART AND CULTURE, and the NATIONAL CIVIC SERVICE AGENCY FOR PARTICIPATION IN DEVELOPMENT.
We are now on a good number of media houses and news latter publication like;
CRTV (program: Shine AFRICA)
THE GUARDIAN POST NEWS PAPER
BOOMTV
MY TV AFRICA
KAMER SPOT CULTURE MAGAZINE
Regard d'afrik TV (the pan African television)
APEX 1 RADIO_internetTV TEXAS USA
CANAL 2 ENGLISH (program: Shine AFRICA)
RTS YAOUNDE • B_bushTV,
JM promo TV
CRTV (program: Cameroon feeling).
In collaboration with FabAfriq, Chidi White Organized Mr/Miss Albino pageant contest on National Albinism Awareness Day.
To Chidi White, awarding Masta Albinos Cameroon is the best thing he has ever perpetrated. Following the theme 'United in making our voice heard. According to Chidi White, the theme was chosen because including voices of persons with albinism is essential to ensure equality.
To celebrate how groups of persons with albinism and individuals increase the visibility of persons with albinism in all domains of life.
To encourage and celebrate unity among groups of persons with albinism.
To amplify the voices and visibility of persons with albinism in all areas of life.
To highlight the work being done by albinism groups around the world. Cameroonians with albinism are among the most marginalized and vulnerable of the country's citizens.
"Albinism is simply a question of skin tone not to be presented with pity and sympathy. They are such a beauty with brains, Therefore, I was glad to celebrate international Albinism awareness day with my partners @fabafriq_magazine one of the organizations working hard to guarantee that Albinism don't merit any less stage to grandstand their gifts or they don't merit any less open doors. We as a dependable society needs to give them a stage to discuss their encounters and help us comprehend the circumstance in a superior manner Because they have a diff skin tone doesn't make them less qualified for anything. This is the best exhibition I've heeded so far, Seeing myself, Anie Okara, Stanley Enow Kathleen coming to spend the day with them and putting a smile on their faces was priceless. Watching them display their talents was a beautiful thing I'd never seen".